Recently, David and I wanted to enjoy the spring weather so we decided to head to Decatur, wander around, and get a drink.  We had no plans of dining out, thinking that we would just eat a later dinner when we got home.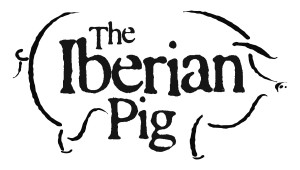 We stopped at the Iberian Pig, a relatively new restaurant in Decatur, and grabbed a seat at the bar.  This modern, Spanish restaurant offers many options on its menu, including cured meats, cheeses, small plates as well as entrees.  We placed ourselves directly in front of a fancy meat slicer that managed to grab our attention.  The bartenders were very attentive, and the vibe at the bar was professional, yet quirky.  All bartenders wear white button downs, black vests and ties, yet I think it's a requirement that you must also have multiple tattoos and piercings to work at the bar.  I ordered a glass of Pinot from their relatively large wine selection.  David decided to try an Old Fashioned, in honor of Don Draper from our new favorite show, 'Mad Men.'  (Well, it's tied for first with 'The Wire.')  After sitting at the bar for a few minutes, we knew we liked the Iberian Pig simply because of the atmosphere and the Old Fashioned made by the bartender.  Who knew an Old Fashioned comes with one huge ice cube?
Of course I took a look at the menu even though food wasn't part of the plan.  I immediately saw the "BWDs," bacon wrapped dates stuffed with Manchego cheese and walnuts.  Wow.  Sounded potentially gluten-free, so figured it couldn't hurt to ask.  The bartender said Iberian Pig actually was making a GF menu so he called over the owner, Frederico Castellucci.  He was very eager to serve us and went through some of our options with us while another waitress brought us the gluten-free menu.
Much to my happiness, the BWDs are naturally gluten-free so we placed an order.  These bites of tastiness were a perfect treat.  As you know, I love the dates and cheese combination, and bacon makes everything taste better, right?
We also ordered the Patatas al Valdeon, crunchy potatoes with an aioli sauce.  They blanch, bake and then fry the potatoes but they use a fryer that doesn't fry breaded items.  (I would still double check with your waiter when you go because they could change fryers.)  These crunchy morsels of goodness were amazing and for once, I actually felt like I could eat 'bar food.'  No salads or sauteed vegetables for this girl!  The sauce went perfectly with the potatoes but didn't sog them up too much.  David generously let me enjoy way more than half my share.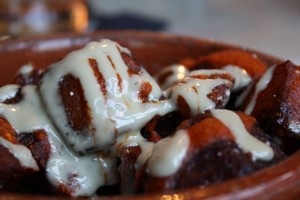 While I didn't end up ordering an entrée because the tapas plates were plenty for me, there were multiple items that caught my eye on the gluten-free menu.  That just means I'll have to go back.  Here are some of the other things I like about Iberian Pig that have nothing to do with gluten:
The menu lists where they get all of their meat from so you know what you're ordering.
It's busy on a Friday night but you can still hear the person sitting next to you.
Good people watching
We got great attention for the servers, bartender, and even the owner.
The cool meat slicer is fascinating.
It was such a great surprise to stumble upon a restaurant that was eager to accommodate and even had a prepared gluten-free menu.  Celiac makes me have to be such a planner, so it's always a relief when I can just happen upon a meal, and not have to think about what I'm doing or where I'm going far in advance.  The Iberian Pig is definitely worth the trip to Decatur, even just for cocktails and appetizers.  They have outside seating as well so enjoy a nice spring evening on their patio.  I think I prefer the bar though.
The Iberian Pig – 121 Sycamore St – Decatur, GA 30030 – (404) 371-8800