I love Mexican food, in fact it's one of my favorite genres of food.  It can be tricky to find good, Mexican cuisine that is safely gluten-free, as there are often language barriers and risks of contamination.  When we lived near Washington, D.C., I was lucky enough to find two Mexican places I loved: Tortilla Coast and Rosa Mexicano.  Much to my excitement, when we moved to Atlanta, I discovered that there's a Rosa Mexicano in Atlantic Station, just a few miles from us.  David and I went to the Atlanta Rosa Mexicano last weekend and were just as pleased with our meal here as back in the District.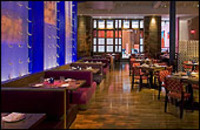 A word of warning: Rosa Mexicano is not your cheap, order by number, Mexican food.  Rosa Mexicano's food is high-quality, with fresh, natural ingredients.  Not only does Rosa Mexicano serve great food, but they are gluten-free friendly, as they use corn tortillas and they fry their tortilla chips in a fryer that's free from gluten.  If you check out Rosa Mexicano's website, they even have a gluten-free menu.  The Atlantic Station restaurant didn't actually have copies of the GF menu, but having perused the online version earlier, I had an idea of my GF options and what I wanted to order.  When going to Rosa Mexicano, or any restaurant, make sure that you double check with the chef about what's gluten-free, even if they have a gluten-free menu.  Our waiter was very friendly and willing to run back and forth to the kitchen for us.  He double checked everything for us.
If you go to Rosa Mexicano, you must get the guacamole that they prepare table side.  It's so good, I want to lick the bowl.  Every last bit of guac gets scraped out of the dish's crevices.  Their guacamole's amazing, fresh, and you know exactly what's in it because you see them make it.  (A celiac's dream!)  As I mentioned before, the chips are gluten-free as are the tortillas so I can dip away!  David's a competitive eater when it comes to guac, so I just have to make sure I eat quickly and/or hoard some of the avocado-goodness on my plate.  Normally I take my time when I eat, but it's hard to maintain any manners when the guacamole is put on the table.  Every man (and woman) is left to fend for himself (herself).
For my entrée, I usually go with one of the versions of the Tacos al asador: pork, steak or chicken.  These are actually more like fajitas than what I think of as tacos, and I love 'building my own' from the platter of meat, veggies, beans and rice.  On our most recent visit, David and I each got one order of tacos and shared.  I love being able to share at a restaurant!  David ordered the pork and I chose the chicken.  I don't usually order chicken at restaurants, but Rosa Mexicano's chicken tacos are delicious and I particularly look forward to the cheese, onions and peppers that are cooked with the chicken.  These dishes come with unlimited corn tortillas, and the black beans are speckled with cheese.  David and I splurged that night by ordering two entrees, but in the past we've just ordered the guacamole and one order of tacos, and it was plenty of food for the two of us.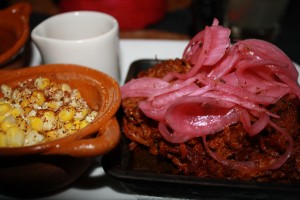 If you're craving Mexican food and want a restaurant safe from gluten, you should definitely check out one of Rosa Mexicano's locations in Atlanta, DC, Miami, L.A., or New York.  While the food's a little pricier than most Mexican establishments, it's worth the splurge.