Phantom of the Opera & Taqueria del Sol
Posted in
Restaurants
On Gluten Freedom, I've shared with you many things about me.  Many nerdy and quirky things about me.
You know that I love 'The Bachelorette.'  Did you see last night's episode??  Frank is pitiful.  I once again vowed that I'm never going to watch another episode of the show.
You know that I love famous chefs and folk music.  Um, Indigo Girls are playing in Atlanta on October 15th.  Mark your calendars!
You know that I dream of someday being a farmer.  Now that I've spent some time working at Serenbe Farm this summer, I'm not sure I have the stamina for that career.  (Bugs like me too much…I'm covered in chigger bites as I write.)
One of the other things that I love which I haven't really shared with you is musicals.  To quote Tobias Funke from 'Arrested Development,' (a great show, by the way…much better than 'Bachelorette') I love the "theeeater."  As a child, my favorite family trip was to New York City where we saw three musicals in 48 hours.  This trip would be my husband's worst nightmare, but he politely puts up with my love of musicals, nonetheless.
So last week, when our friends, Peyten and Stan, asked if we would like to see 'Phantom of the Opera' at the Fox Theater with them, I quickly accepted before asking David what he thought about the idea.  I hadn't seen 'Phantom' in 12 years, and they're claiming this is the last national tour of the show.  (Probably just a marketing ploy, but I fell for it nonetheless.)
After accepting Peyten's offer, then came the question of where to go for dinner before the show.  An 8:00 start time limits one's options, especially for me, who always worries about being on time.  (I don't want to risk missing the overture.)
Peyten suggested Taqueria del Sol as it's apparently a quick stop for a meal, despite the long line that's always stretching out the door.  I had never been to this beloved Atlanta spot, as I'm weary about places that serve food quickly and en masse.  Thanks to blogger, Celiac Eats, who loves Taqueria del Sol, I was willing to give it a try.  As the time for dinner got closer, I became more anxious about the impending meal.  (I know that's weird for you non-celiacs, but going out to dinner can be very scary, especially when you'll be confined to a theater seat for the next three hours.)  I texted my friend, Anne, (also celiac) and asked her opinion.  She was lukewarm on Taqueria so I began to plan on eating dinner prior to the Taqueria stop.
David encouraged me to call ahead, just in case, and I did.  He's full of great ideas.  The manager, with whom I spoke, has a gluten allergy herself.  She knew everything I could eat and was very specific, which I love.  She even told me that I can have chips if I come for lunch, but not for dinner because at that point the fryer is contaminated.  Such helpful information!
Most of the enchiladas are totally gluten free and the corn tortillas can be substituted for the tacos.  They were some of the best corn tortillas I've ever eaten.  For dinner, I ordered one Memphis taco and one Veggie taco, with a side of the Charros beans.  I also got some guacamole because I can never resist guac.  The brisket taco is also gluten-free so I'll try that one next time.  Both of my tacos were delicious.  The Memphis comes with smoked pork, jalapenos, bbq sauce and cole slaw.  A perfect combination.  Sweet, salty and crunchy.  (I love weird combos and combining textures.)  The veggie taco was delish as well!  I enjoyed my meal while sipping on a tequila and tonic.  Yes, a tequila and tonic.  Don't knock it 'till you try it.  I promise, you'll love it.  Just think margarita, without the too tart, too sweet grime that stays on your teeth.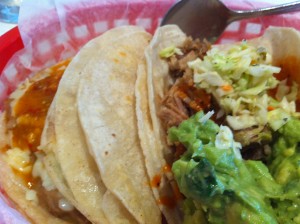 As I mentioned, Taqueria has an intimidating line out front, but it's worth it.  You can walk to the bar and order a drink to enjoy while you wait in line.  The line moves fairly quickly so it looks worse than it is.  I'm so glad to discover another spot in Atlanta where I can grab a quick, and relatively cheap meal, that's gluten-free friendly.
And of course, we made it to the Fox in plenty of time and I thoroughly enjoyed the show, trying not to sing along.  Afterwards, I did have trouble explaining to David why I think 'Phantom of the Opera' is so good.  It just is.