I heart Pamela's Baking & Pancake Mix.  If you are new to the gluten-free world, Pamela's is a must-purchase for you.  This is an easy go-to mix for making pancakes, waffles, chocolate chip cookies, and other yummy treats.  The folks at Pamela's have a great recipe and you can add minimal ingredients to their base mix in order to make a delicious baked good.
While I love experimenting with my own flour combinations when baking gluten-free, sometimes you just need something quick and easy.  Pamela's is just that…oh, and it tastes yummy too.  Even my brother, who is the biggest gluten-eater I know, loves homemade chocolate chip cookies with Pamela's.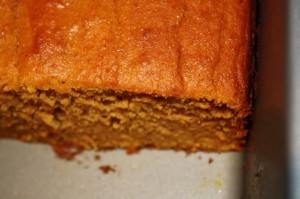 Another thing I heart is baking with pumpkin.  Pumpkin muffins, pumpkin cookies, and pumpkin bread are all at the top of my list of favorite sweets, especially as we enter the cool weather months.  I find that baking with pumpkin adds moistness (for a lack of a better word) and sponginess to gluten-free treats.  Last week, I wanted to make a quick and easy pumpkin bread and I found this recipe on Pamela's website.  Perfect!  I didn't even make the Crumble Nut Topping and it was delicious.  I also like making this pumpkin bread with chocolate chips, if I really want to please my sweet tooth.  Since I was serving the pumpkin bread with soup, I went the more savory route and omitted the chocolate chips.
Pumpkin Bread with Crumble Nut Topping
4 tablespoons butter, melted
1/2 cup sugar
2 large eggs
1 cup of canned pumpkin
1-1/3 cups Pamela's Baking & Pancake Mix
1/2 teaspoon salt
1 teaspoon cinnamon
1/2 teaspoon ginger
1/4 teaspoon cloves
¾ cup semi-sweet chocolate chips (optional)
Topping: (optional)
2 tablespoons butter, melted
1/3 cup packed brown sugar
1/2 cup of nuts (sliced almonds, walnuts, pecans)
Beat together butter, sugar, egg, and pumpkin. Add remaining bread ingredients and mix together. Gently mix in chocolate chips.  Pour into a greased loaf pan (8 x 4). Mix nut topping ingredients and smooth evenly over batter to the edges. Bake in a preheated 350° oven for 50 to 60 minutes, or when toothpick inserted comes out almost clean.
Enjoy!